Dear Parents and Staff, Thank you for all of your efforts to work with and support our students in order to help them learn at a high level. We have much to be grateful for in our schools and communities! In case you missed it, we made a change in our calendar for the week of Thanksgiving this year. All schools will be closed the entire week, Monday through Friday (November 22nd through the 26th). School will resume Monday November 29th. We hope you have an enjoyable break. Go Lobos! Hollis J. Merrell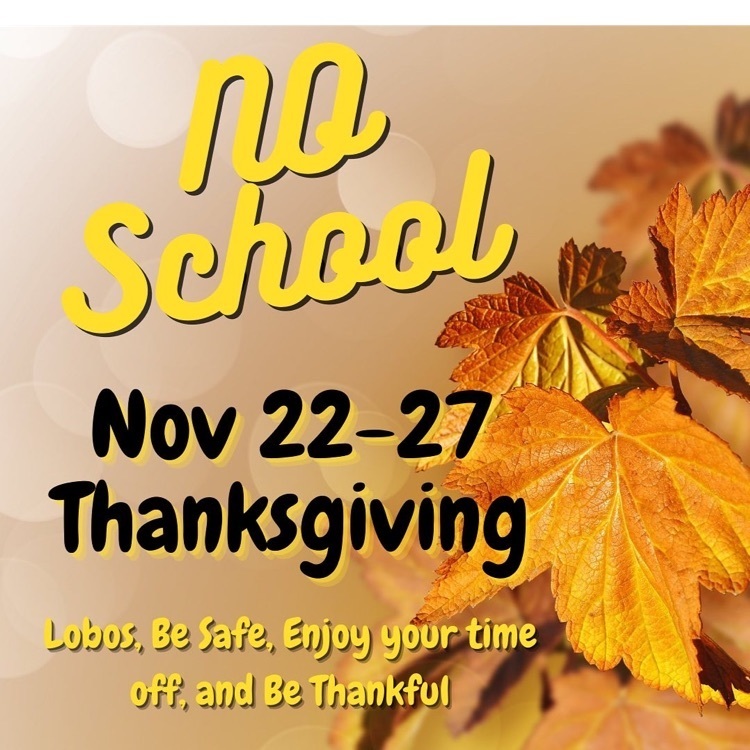 End of November Events at SHS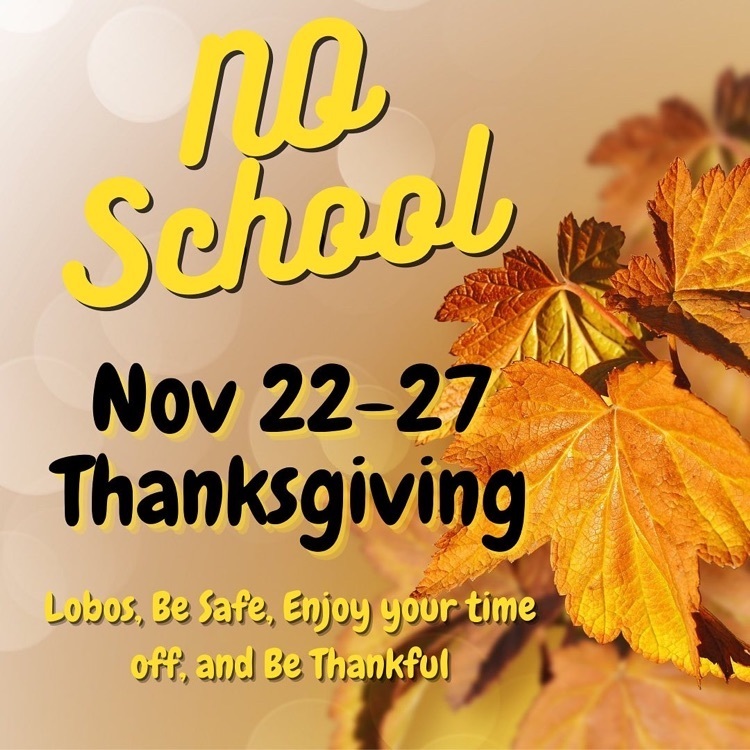 Here is some info for Class of 2022 Senior families. Senior Trip, pay anytime in the bookstore or office, and send in senior photos for yearbook by Jan 15
snowflakeyearbook@gmail.com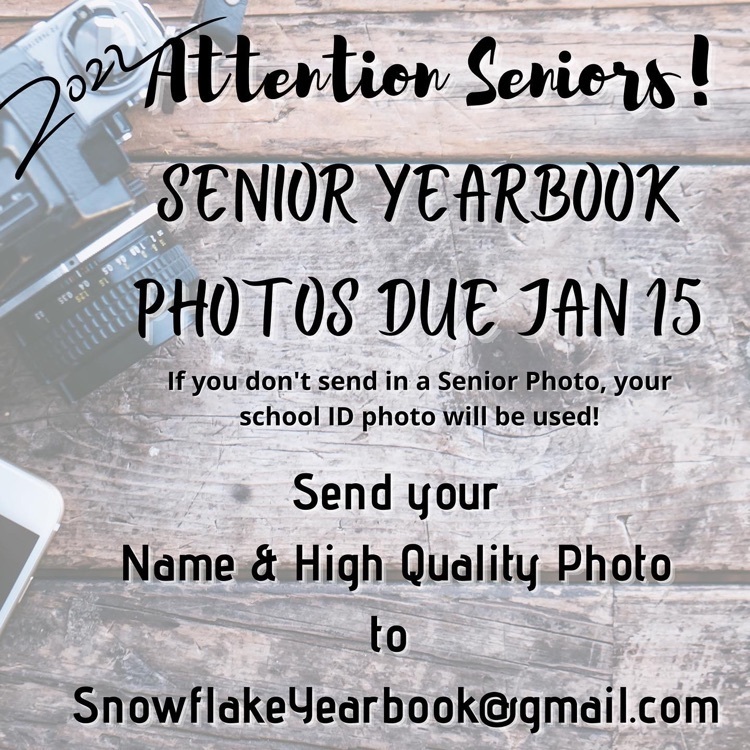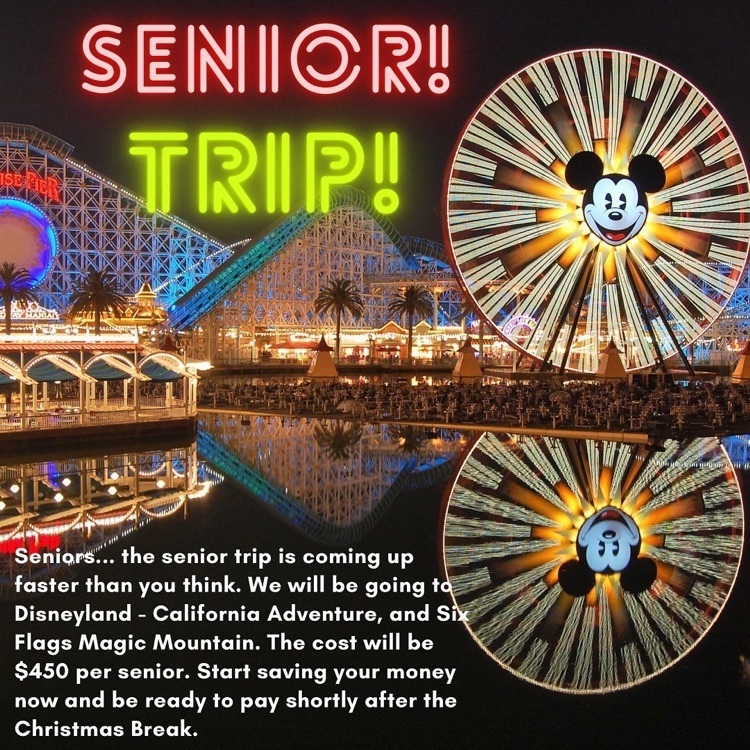 Seniors Parents/Guardians, It's time to start getting ready for Graduation! Jostens is the company we order our cap and gowns through. They would like us to get our orders placed as soon as possible so they can plan and ensure they have the correct sizes and colors for all our graduates. Please note: If you are interested in the cap and gown set ONLY, follow the instructions below to find the most affordable set Jostens offers. You do not have to purchase a full graduation package unless you would like to purchase all the extras. -Go to Jostens.com -Select "Shop Your School" -Enter Snowflake High School -Select the Graduation option -Scroll down to the bottom of the page to view "Shop Graduation Products" and click "Shop Now" -Scroll to the middle of the page and under Cap & Gown there is a Cap & Gown Unit option for $33.95 The $33.95 Cap & Gown Unit comes with a '22 tassel. You do not need to purchase any other tassel. Specialty tassels are not to be worn graduation night. If you are borrowing a cap and gown, you will need to purchase a Souvenir Tassel for $10.95. This tassel is found on the line of items under the cap and gown unit. Please bring the borrowed cap and gown to me for approval before graduation. I know this is a lot of information and can be confusing. Please feel free to call me at (928) 536-4156 Ext 7510 if you have any questions. Sherri Claridge Administrative Assistant Snowflake High School
Snowflake Idol round 2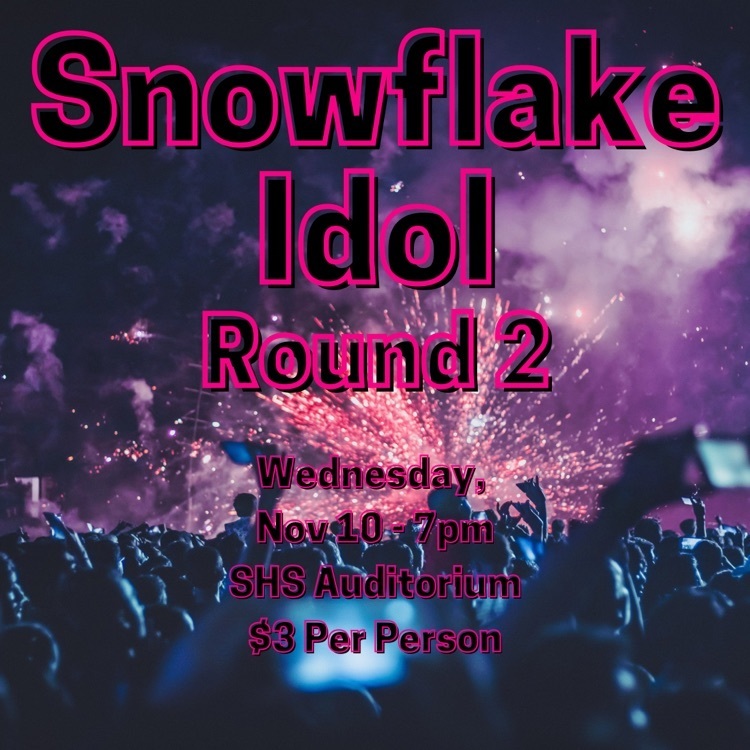 Activity Bulletin Nov 1-8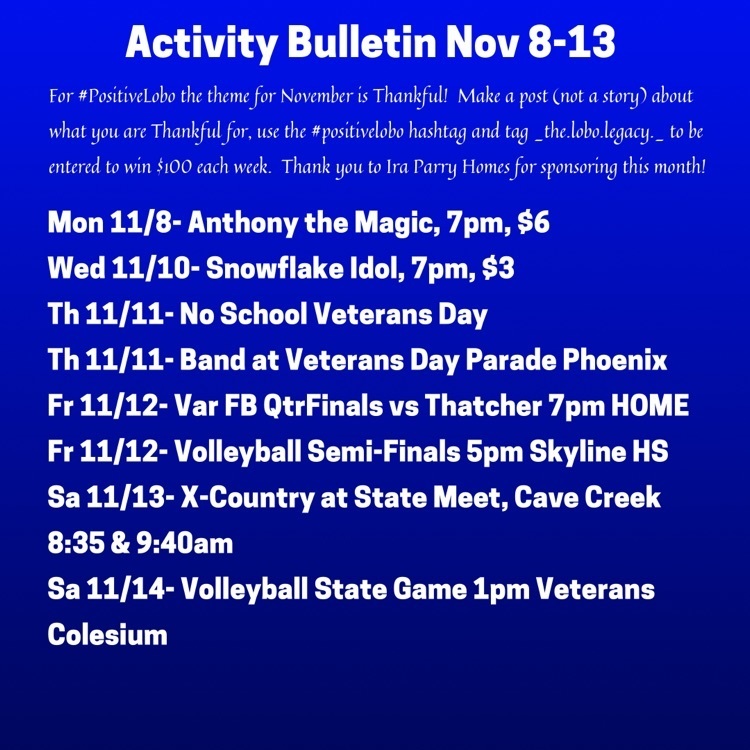 Seniors & Senior Parents, start saving your $$ - Great Christmas gift idea. @shs_seniors22 Here is a brief itinerary, subject to minor changes of course. Monday May 23 Leave SHS 7:00 A.M. Travel to Placentia, CA (student responsible for meals) Tuesday May 24 Disneyland and California Adventure (breakfast provided, student responsible for lunch and dinner) Wednesday May 25 Six Flags - Magic Mountain (all meals provided this day) Leave home after Six Flags and dinner Thursday May 26 Arrive home at approximately 6-7 A.M. Included All transportation 2 nights motel 4 meals Student responsible for 3 Monday meals 2 Tuesday meals souvenirs, extra snacks
Fall Sports Playoffs Week 1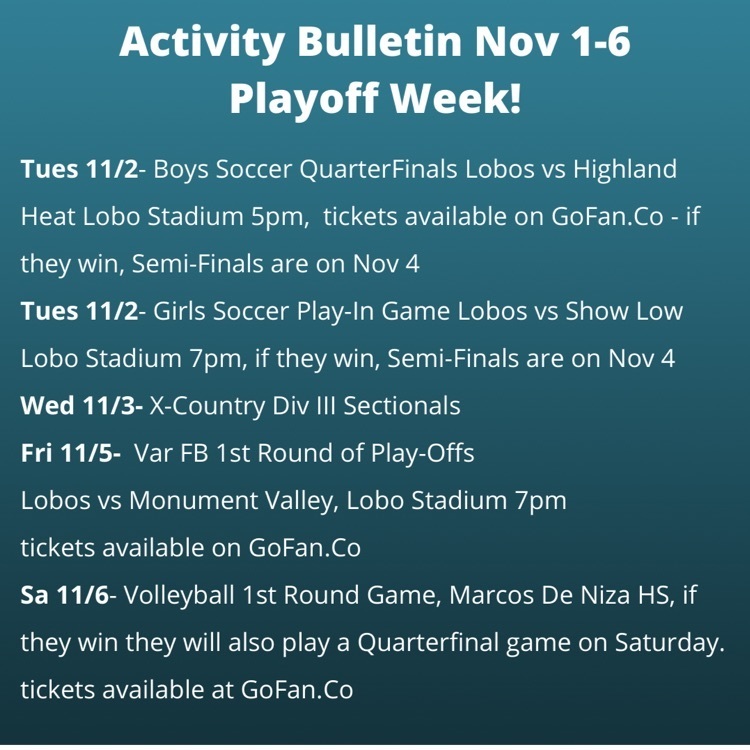 Snowflake Idol is back!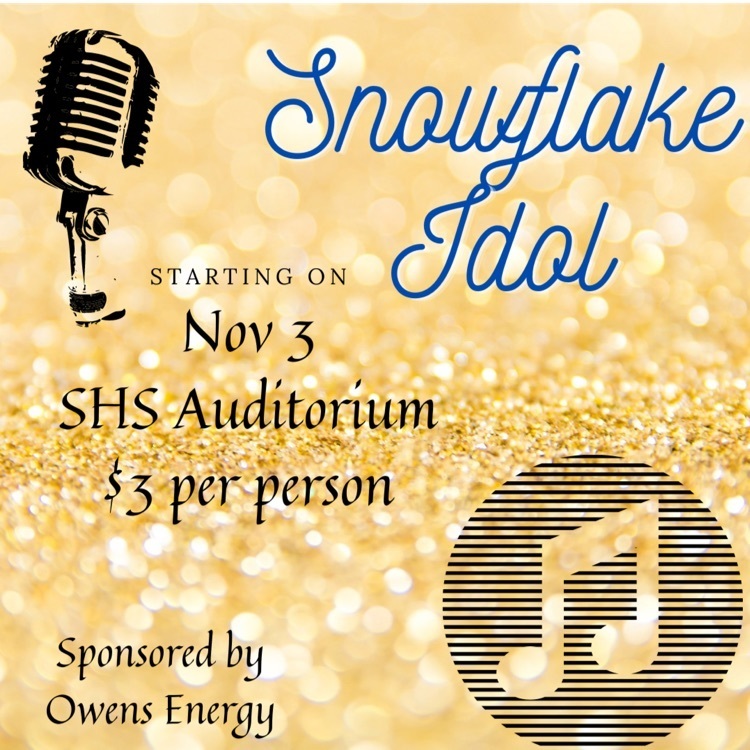 Winter Sports start next week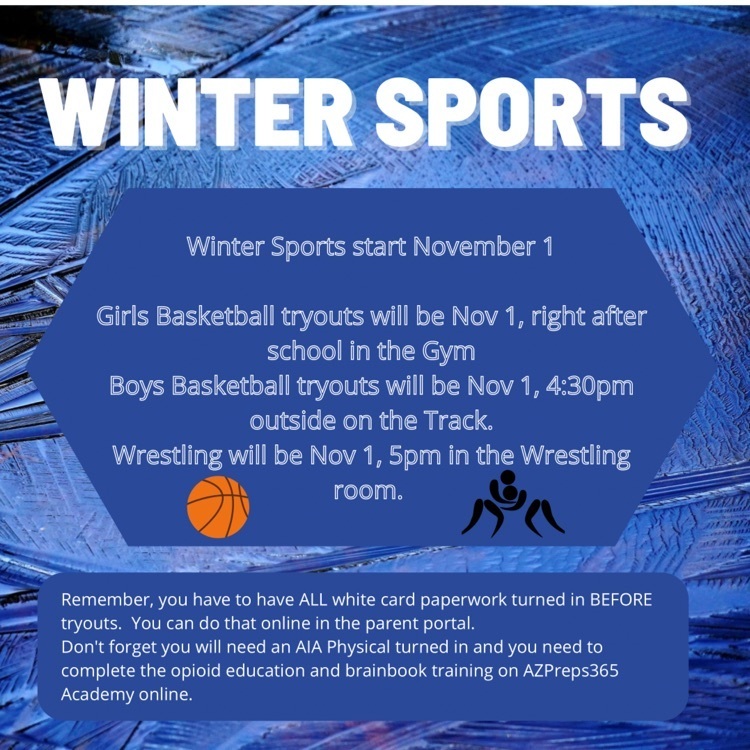 Seniors... the senior trip is coming up faster than you think. We will be going to Disneyland - California Adventure, and Six Flags Magic Mountain. The cost will be $450 per senior. Start saving your money now and be ready to pay shortly after the Winter Break.
Next Week's HS Activity Bulletin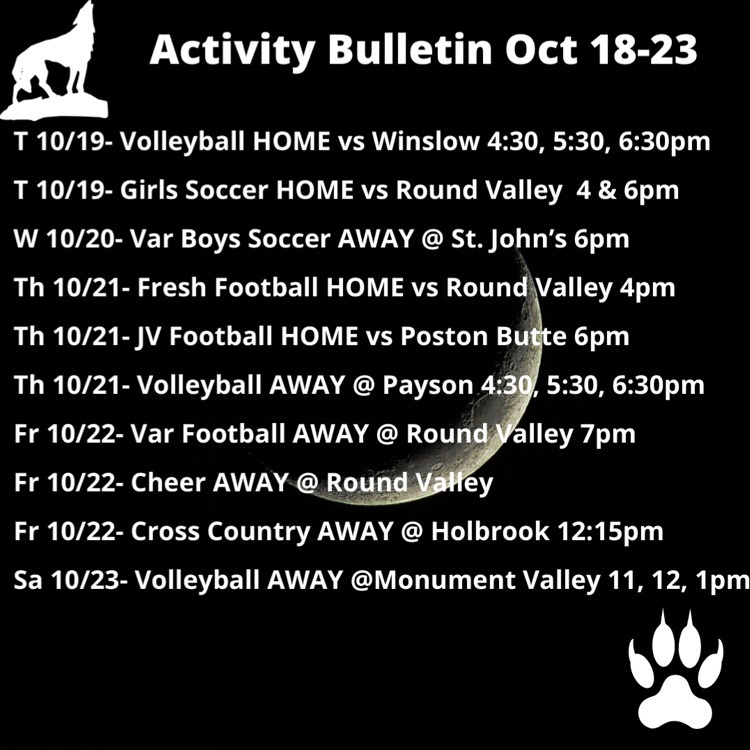 1 Quarter down, 3 more to go! Enjoy your Fall Break Lobos, be safe, make good choices, have fun, be positive! Next days off will be Nov 11 (Veteran's Day), Nov 22-26 (Thanksgiving break), and Dec 20-31 (Winter Break). Finals week is Dec 13-16 & Winter Formal is Jan 8.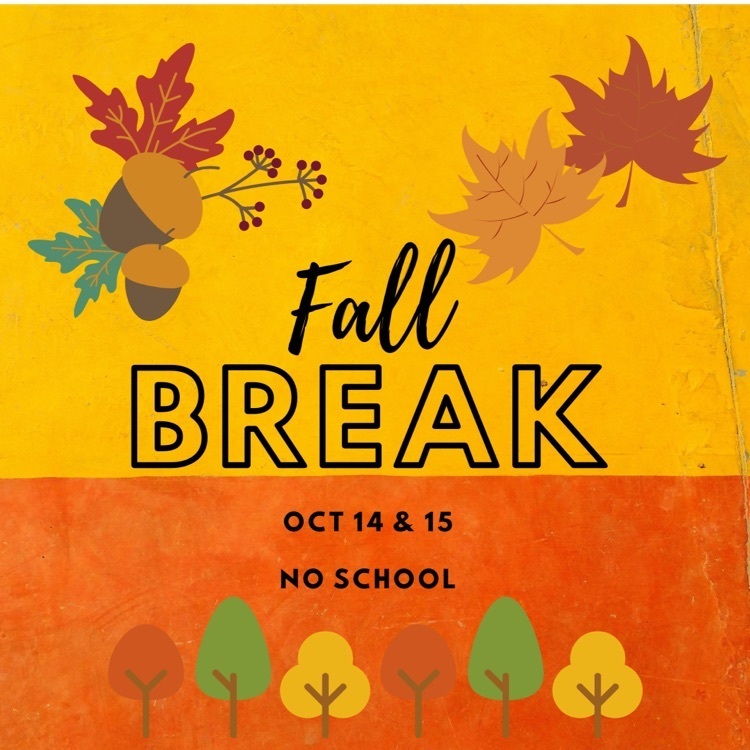 Next week we will be having Parent Teacher Conferences and Fall Break.
Snowflake USD5: Parents and staff, Snowflake blue bus cannot go any farther than the Concho community center. There is no place to turn around due to mud. Green bus in Taylor cannot go down cattle lane due to flooding. The road is being shut down. All busses will be running late due to fog. Please be patient and stay safe
Check out this message from Mr. Titus and our Executive Student Council! We are challenging all SHS Students to post positive messages on social media. Positive Solar LLC has given us $100 per week for the month of October to give away to students posting Positive Happenings around campus and around town. Share your photos and videos to social media using the hashtag #positivelobo and also tag _the.lobo.legacy_ drawings will be held on Thursdays.
https://youtu.be/UpI1jzNcMjU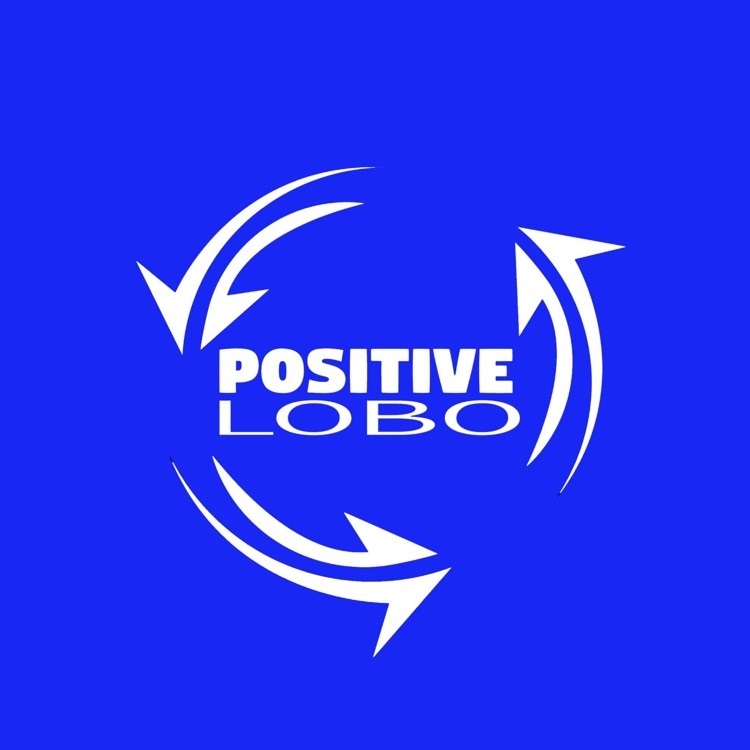 This week's activities!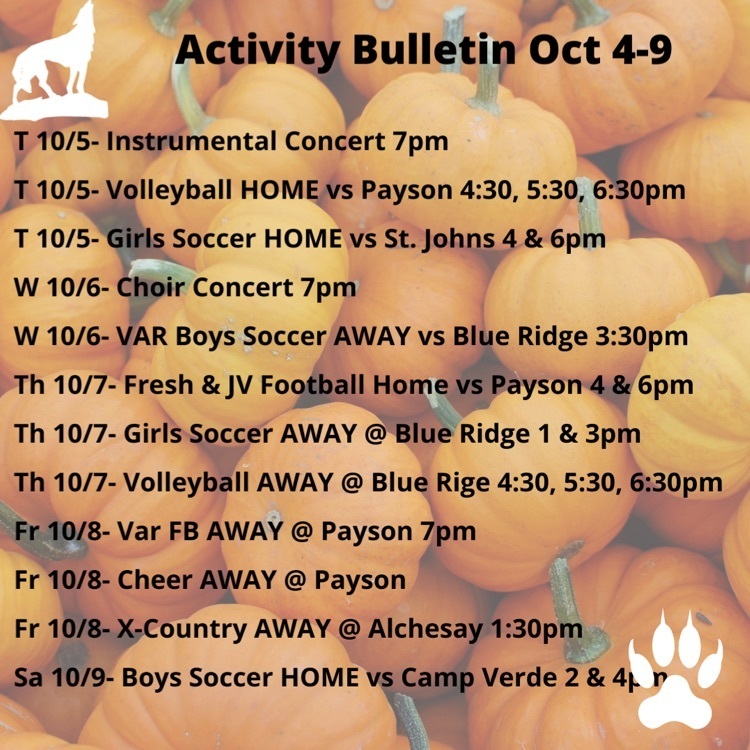 Snowflake High School Blood Drive Tuesday Oct. 12 from 8am to 6pm.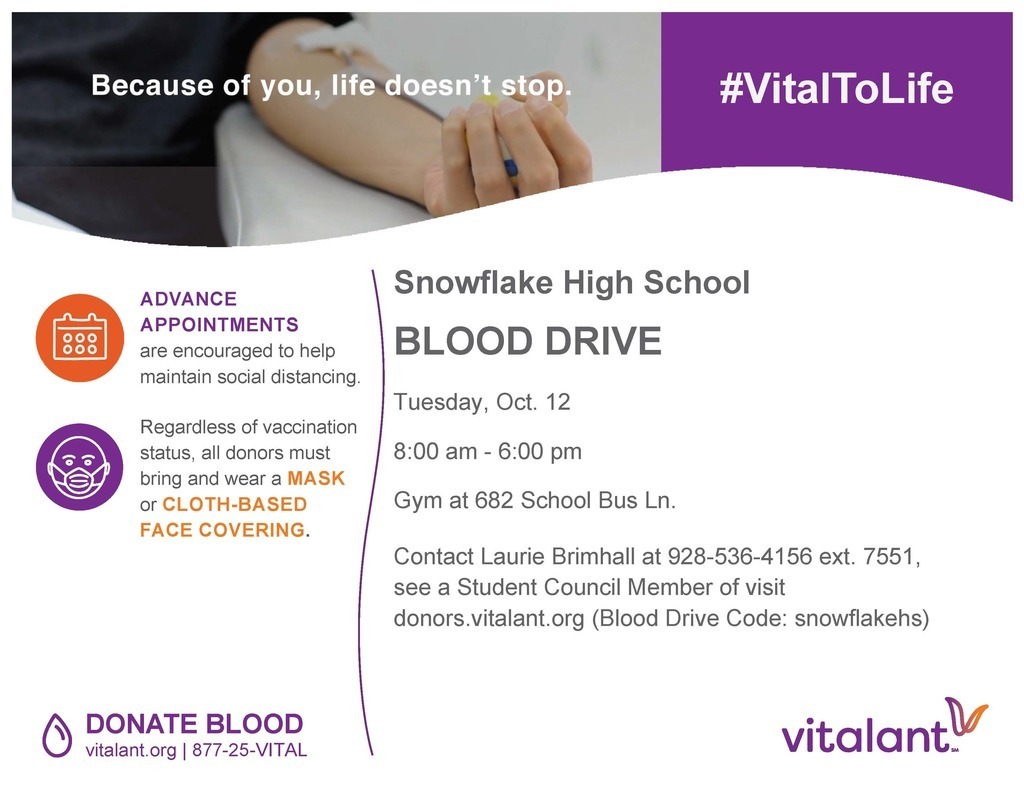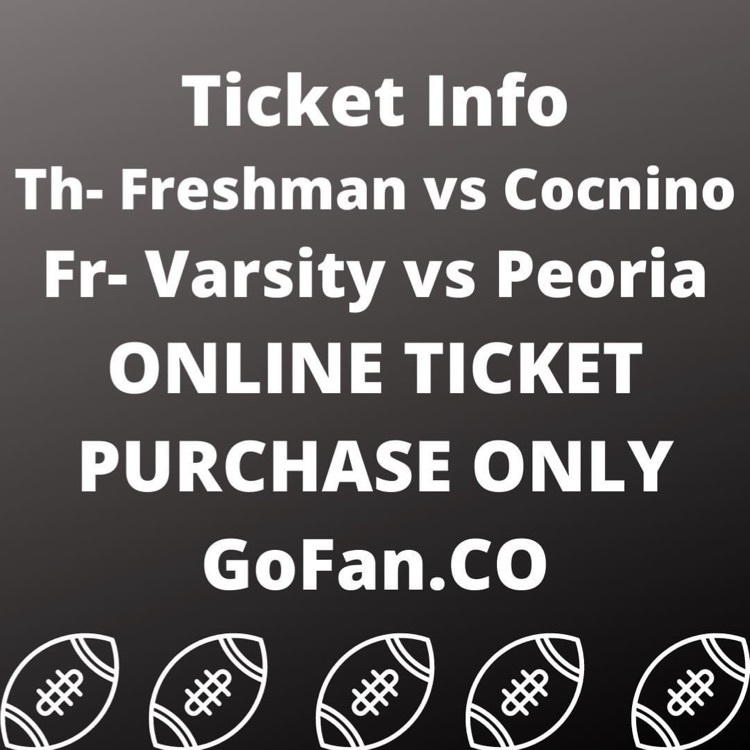 REMINDER: Snowflake FFA will be holding our annual Homecoming BBQ this evening, beginning sales at 5pm and ending at 8pm. We will be located in the High School Cafeteria selling plates for $5 or $20 for 5 plates. The plates will include a pulled pork sandwich, baked beans, bag of chips, and a flavored water. Come out and enjoy some delicious BBQ and support your local FFA Chapter!!!